In today's fast-paced digital world, people need responses to their requests quickly.  Potential customers searching for a moving company expect to be able to get a quote online.  As a moving company, you need to be able to fill these quote requests quickly in order to compete.  You also need accessible information from the customer so that you can contact them and make a sale.  However, you may not know where to begin when creating an online quoting system.  
MovePoint has a solution for you.
MovePoint's Web Quote acts like a virtual salesman 24-hours a day.  Web Quote will connect your website to MovePoint Software, so you can access customer information and send responses efficiently.
When a customer requests a quote through our simple 3-step process, they receive an instant price and all of their data is imported into MovePoint Software.

Customer Information
Customers enter contact information, details about their move, and conditions.

Move Inventory
A simple inventory list allows the customer to perform their own in-home survey.

Extras
The customer can then select any additional services they need and provide comments or special requests.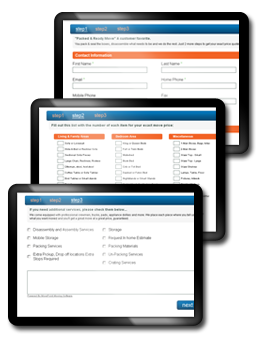 After completing these three steps the customer's data is sent to MovePoint where your business has the option to return a price, show a thank you page, or email an estimate through an automated email trigger.
Your Web Quote will be customized for your business.  We integrate the look of your website and your brand.  You can request the information that you need within the quote system so that it will be right for your business.  MovePoint handles all of the integration work to get the system connected to your website.
The Web Quote add-on comes with the MovePoint Corporate Edition and can be added on to Kickstart or Small Business Editions, as well.