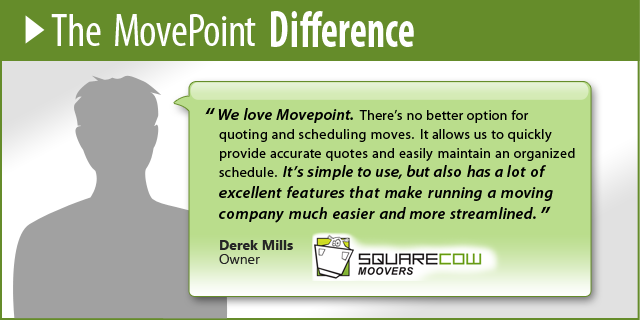 Transport And More has been using MovePoint for a little over a year and we feel like it brings an enormous value to our business. On the sales side, It allows us to stay in touch with our customers with ease with our e-mail triggers and sending out quotes. The system is very user friendly and I think that also makes a big difference that we are able to get new sales people up to speed with the system and ready to go in a very short period. MovePoint also allows us to keep track of bad leads that we need to request credit for from our lead sources and without that function, we would probably lose hundreds of dollars per year in not more.

When it comes to the management side, the HR, Admin, & Reporting sections allow us to manage our people and business efficiently so that we can focus on growing the business. We really like that we can access our MovePoint page on our computers, tablets, and phones (including apple products). I'm sure that Movepoint may even have tools that we are not taking advantage of but everything we need as far as software is concerned is at our fingertips every day because of MovePoint.

Lastly, we really appreciate having people we can get on the line if we need support with a situation. There have been a few employees that have goon above and beyond for our company more than once and that kind of dedication to their jobs is hard to find. Transport And More would recommend MovePoint to anyone in the industry.

Noé Neaves
Transport And More, LLC.
We started using Movepoint because it was the only web-based moving and
storage software on the market. The convenience of being able to input a customers info anywhere makes it much easier on our sales staff. There is no need for my CSR to transfer or sync the customer's information after the survey has been completed. This cuts down on time and saves us from the hassle of losing data or having to do double entry for a customer's information. We also love the web quoting module. It allows online prospects to input their move info and once they press send it is automatically fed into Movepoint. Once received, Movepoint can be set up to immediately send out an estimate or a
confirmation email. Movepoint has allowed us to free up time for our
sales staff so we can focus more time on bringing in new clients and closing more deals! We love it and will never switch back to any other antiquated server-based moving and storage software.

Patrick Wilkinson
Owner
Movegreen Inc.
We love MovePoint. There's no better option for quoting and scheduling moves. It allows us to quickly provide accurate quotes and easily maintain an organized schedule. It's simple to use, but also has a lot of excellent features that make running a moving company much easier and more streamlined.

Derek Mills
Square Cow Movers
The Movepoint schedule allows me to see everything I need on one screen. Things are right where I need them.

Jay
Operations and Storage Manager
Movepoint allows me to collect information from the customer however the customer wants to give it. I can bounce from customer address to move inventory to packing materials or storage and back. It lets me do things as the customer wants to do it, not as the system dictates.

Jayson
Sales Manager
Movepoint allows me to do many things at once, and to manage interruptions, such as confirmation phone calls or adjustments to a move more efficiently than ever.

Chris
General Manager
Movepoint is built around calendars and that allows me to jump where I need to from anywhere!

Chris
General Manager
MovePoint web interface is easy to navigate and makes it simple to verify accounting data

Caysie
Accounting Manager
Quote lookup is fast and flexible. Lookup a quote by number, name, date, or whatever

Eric
Sales Manager
Movepoint has given me a lot more power to understand and manage my business, right at my fingertips

Otis
Owner
I am very comfortable with Movepoint and the improvements that have come with it.

Caysie
Accounting Manager
MovePoint has become a very integral part of my business. Without it my business would not run nearly as smooth as it does! This software was without a doubt designed with the Moving / Storage business in mind! Designed by a moving company for other moving companies. Not just a software developer without knowledge of the business. If you ever want to ask a customer of MovePoint a question, feel free to call. 817-570-0502.

Paul
President
The Movepoint software has been a blessing for our company. Furthermore, the customer service has been outstanding. These guys even help us solve technology problems unrelated to their software! A+!

Beau
Director of Marketing